Your Guide in the world of Sales and Leadership Communication
Trainer / Coach / Facilitator
I help my clients find their road to success. I respect everyone's personality and views. I am neither a wise professor nor a clown. I am a very practical person and sometimes I play the roles of a professor or clown to facilitate the learning process.
Former Banker
I have a sales and leadership experience from diverse positions at multiple organizations in multiple countries. I have lead and managed people. I have been selling. I have done cold calling. I have learnt the value of relationships and how to build them. 
Human
I have a family, two kids. Two teenage sons, actually. I have been teaching them what my parents taught me. That I should live in such a way that I can look everyone into the eyes. I am not always sure that what I am doing is the right thing. I make mistakes.  So I take my own mistakes as a great source of learning.
I am training all over the Europe
I am supporting the sales teams of my clients in Portugal, Spain, France, UK, Netherlands, Belgium, Germany, Switzerland, Italy, Norway, Sweden, Denmark, Finland, Poland, Slovakia, Austria, Hungary, Romania, Slovenia, Croatia, Serbia, Bosnia and Herzegovina, Greece, Turkey or Tunisia.
I delivered my services to the above companies during the past 12 months.
50% of my trainings are held in English across the whole Europe, 50% of my trainings are held in the Czech language in the Czech Republic and Slovakia.
My priority is to add value to my clients.
I work only on projects that create value for the client.
I make sure to balance the needs of the participants and the customer (participants' employer).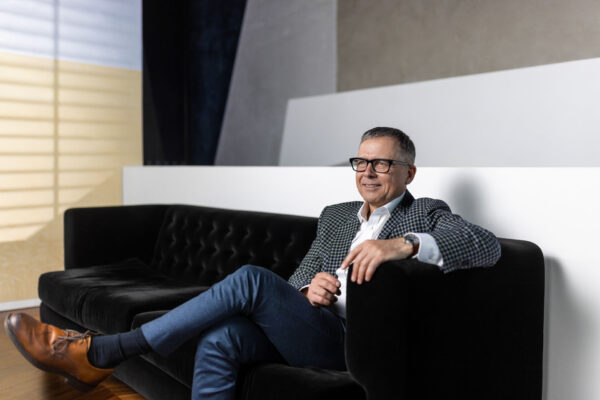 My priority is to add value to my clients.
I work only on projects that create value for the client.
I make sure to balance the needs of the participants and the customer (participants' employer).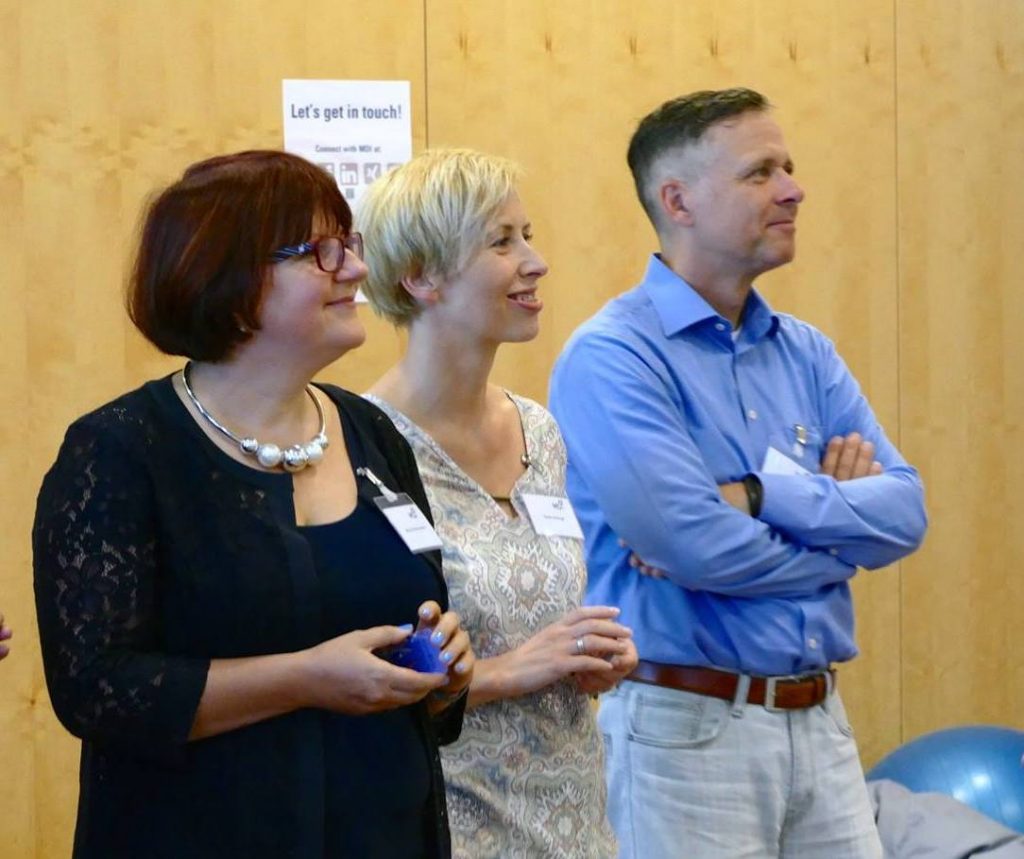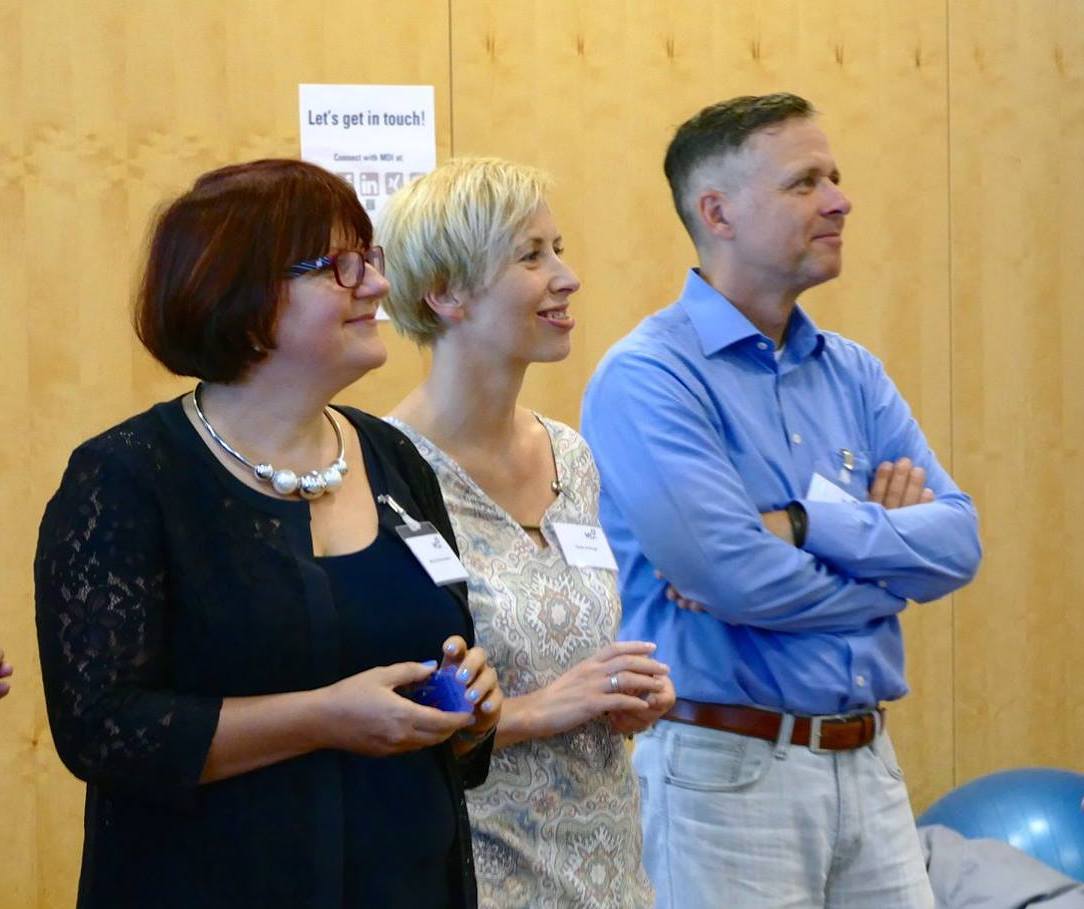 I focus on business communication - sales, negotiation, persuasion
I use multiple sales techniques - SPIN, Challenger, and others according to the situation requirements
I also use further tools - NLP, systemics, positive psychology and others.
My approach is self-confident and humble at the same time.
I focus on achieving the outcomes, i.e. resolving the issue minimizing the investment (time&money).
The map is not the territory.
All behaviour has a positive intention.
The meaning of your communication is the response you get.
The person with requisite variety determines the outcome.
There is no failure, only feedback.
We each already have all the resources we need.
(Based on the work of John Seymour)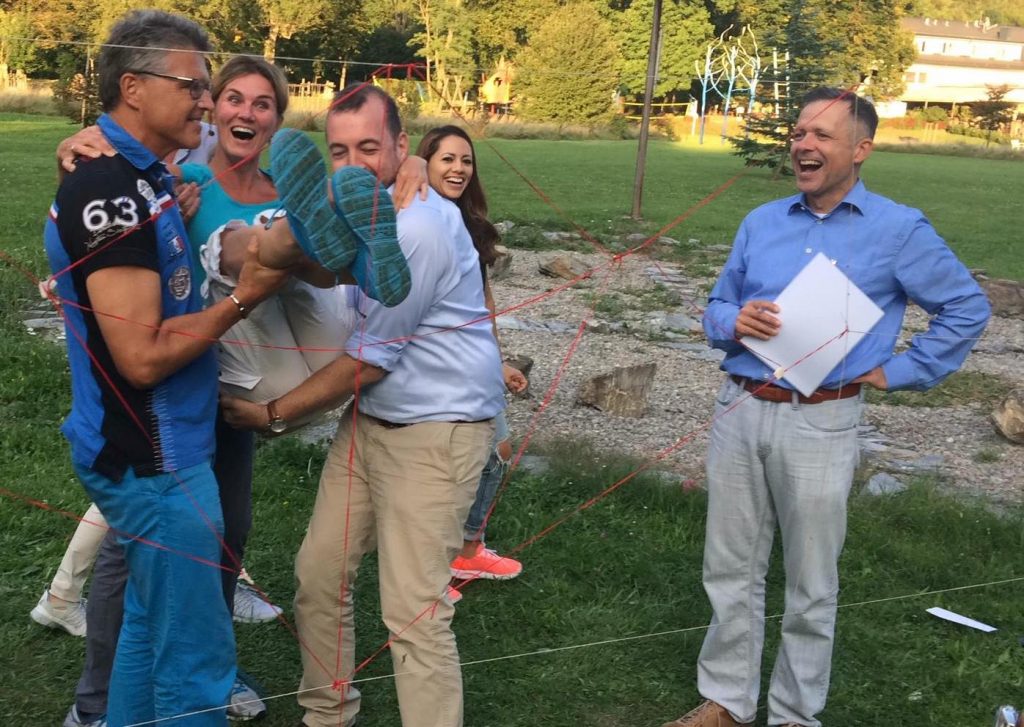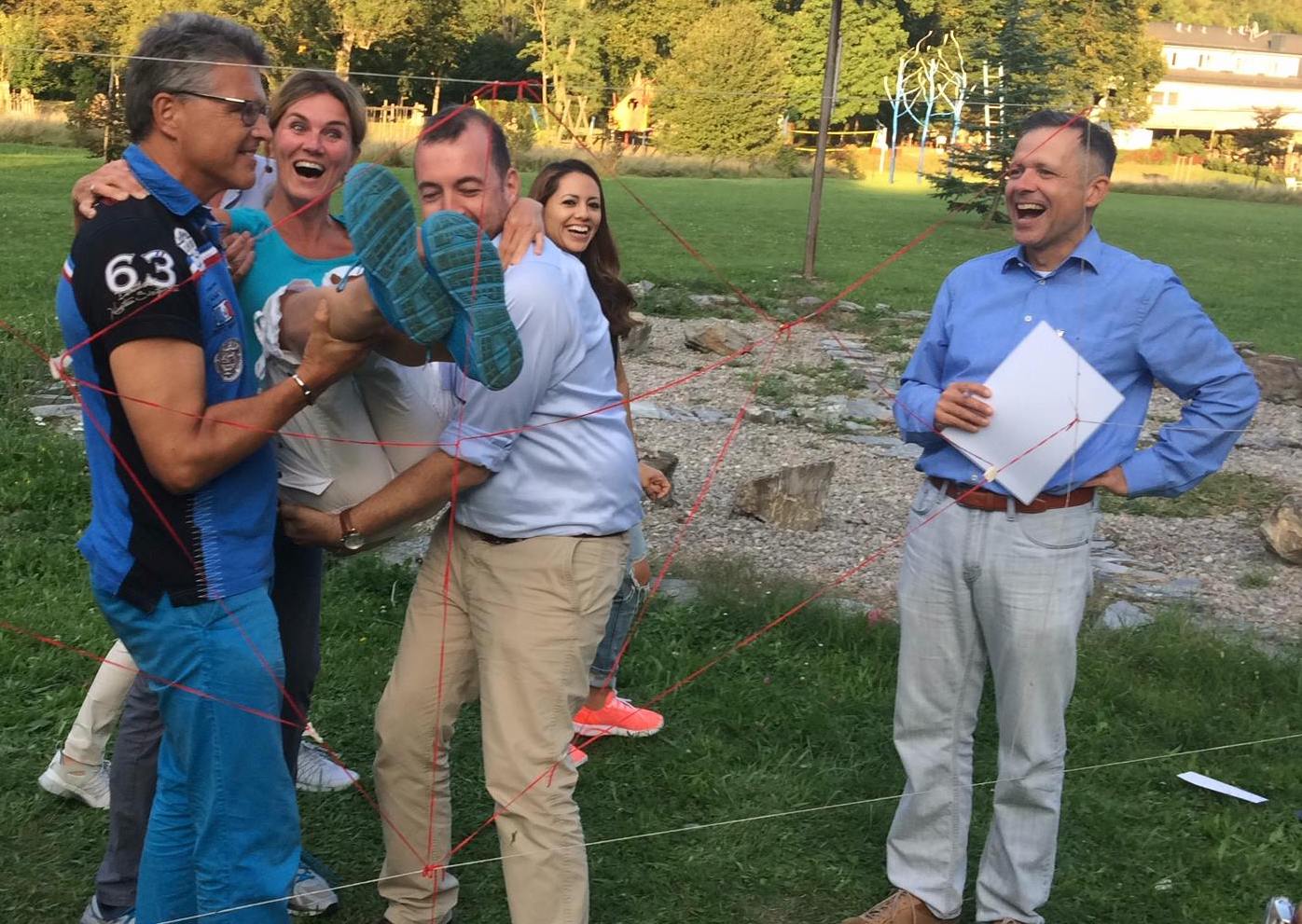 I have had the opportunity to join one of Martin's trainings and to work with him on how to "get buy-in and commitment from stakeholders" (Influencing Stakeholders). Martin is a good coach, and his various background allows him to identify correctly the people in the team and understand how to drive the class to reach the target. He shows good flexibility to adapt the base material into a specific learning activity. He is a good English speaker and professional. I believe in Martin skills, and so far, he is one of the best trainer I met. He gave me also some personal and professional hint on how to maintain the current strengths and he indicated me potential ways on how to work on my points with highest improving margin. It would be a pleasure to work again with him and I would recommend him as a professional trainer.
If you think about where to invest money in coming months, I would have recommendation for you 🙂 I just want to share with you my experience from Martin's training. Two intensive days with clear structure, very well balanced theory and practice, refreshing, stipulating many different ideas and thoughts and helping one to raise important questions for your personal and professional life, for which one does not have in "normal" life enough time to raise. And what is more important also come to answers. Also how to manage unpleasant situations in our life, how to get "ready" and what "tools" to use one can learn during the training. And it really works, I tried it in practice. Martin is gifted to lead and coach the attendees. Vast majority of attendees including myself clearly stated that the course fulfilled their expectations. Several "colleagues" were facing major decision in their life and during or after the training they claimed that the training helped them to make the decision. Join Martin for his training and you will not regret 😉
I did one of Martin's training and was impressed with the personal engagement and commitment. I was surprised with all the great result I have had from this training in my profession as well as in my private life.
I attended a training session where Martin was the trainer and I really liked the very friendly and effective way he managed and conducted it. His advise and coaching helped me a lot in improving my approach to the job, people and life. Thanks Martin! Antonio
I am training Sales and Presentation Skills at the  DigiAka - Academy of Digital Marketing, established by the Czech Association of Communication Agencies. The purpose of my session is that the students (full-time account managers of digital advertising agencies) are able to sell the solution they have designed. We focus on:
Establishing and analyzing customer needs
Defining persuasive arguments
B2B sales in a complex corporate structure
Presenting the solution, incl. Q&A and Closing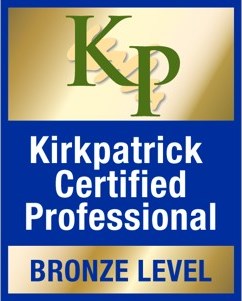 Kirkpatrick Four Levels Evaluation Program - Bronze certification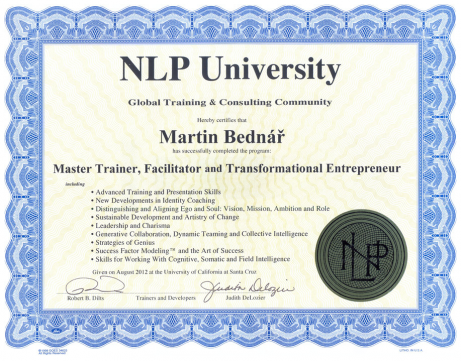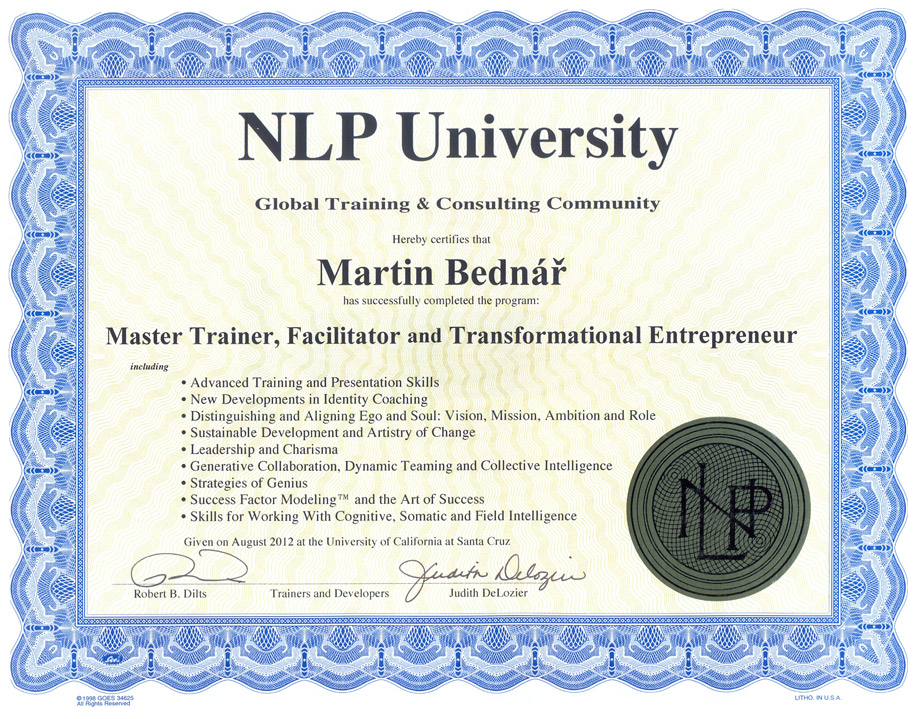 Highest NLP Certification - Master Trainer from NLP Univerzity in Santa Cruz, USA
2019 - Agile Leadership, Management Development Institute, Vienna
2017 - Designing High Performance Learning Journeys / Brinkerhoff
2017 - Kirkpatrick Four Levels Evaluation Program - Bronze certification
2017 - Challenger Sales - CEB/Gartner - trainer
2015 - VBA (Verbal Behavior Analysis) Negotiation - Huthwaite Research - trainer
2013 - SPIN Sales - Huthwaite Research - trainer
2013 - Systemic Coaching, John Whittington
2012 - Master Trainer of NLP, Robert Dilts, NLP University, Santa Cruz, USA
2009 - Trainer of NLP, John Seymour, Bristol, UK
2008 - Master Practitioner in NLP,  John Seymour, Bristol, UK
2007-present - Trainer, Coach, Facilitator
2001-2007 - Citibank, various positions, incl. Vice President
1999-2000 - GE Capital, Post-acquisition Integration Manager
1996-1998 - Citibank, Senior Relationship Manager, Corporate Bank
1994-1995 - WestDeutsche Landesbank, Analyst (Prague, Dusseldorf, Paris)
1993-1994 - MBA, University of Pittsburgh, USA
1992-1993 - United Distillers (currently Diageo), Area Sales Manager
1985-1991 - Ing., Technical University in Brno, Computer Engineering
Robert Dilts, Martin Bednář, Judith deLozier
Martin's NLP Master Trainer graduation at the NLP University in Santa Cruz, CA in 2013